Marketing Content and Copywriting
Chad, an author and book coach, needed to get the word out about his paid membership. After assessing his audience, their needs, and the product features, I wrote the benefit-focused copy for a full sales page that increased subscriptions.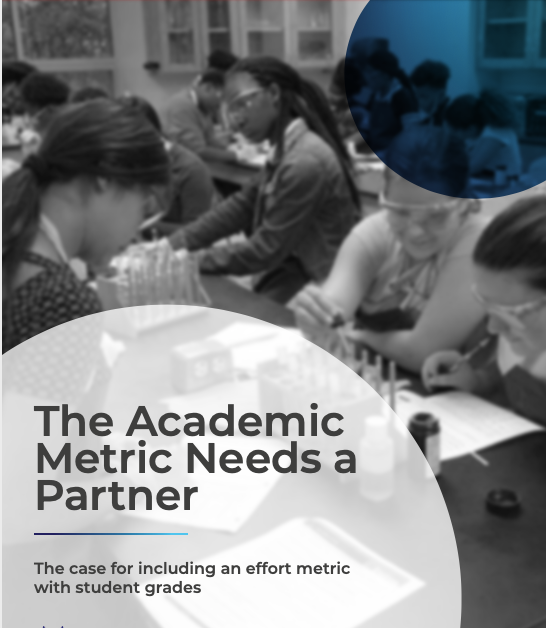 An ed tech start-up needed to position themselves as a thought leader while providing a free resource to teachers to create more leads. Before writing a topic-driven white paper, I completed research and interviewed satisfied users of the app. I included a full case study in the final publication and collaborated with a graphic designer, who completed the layout.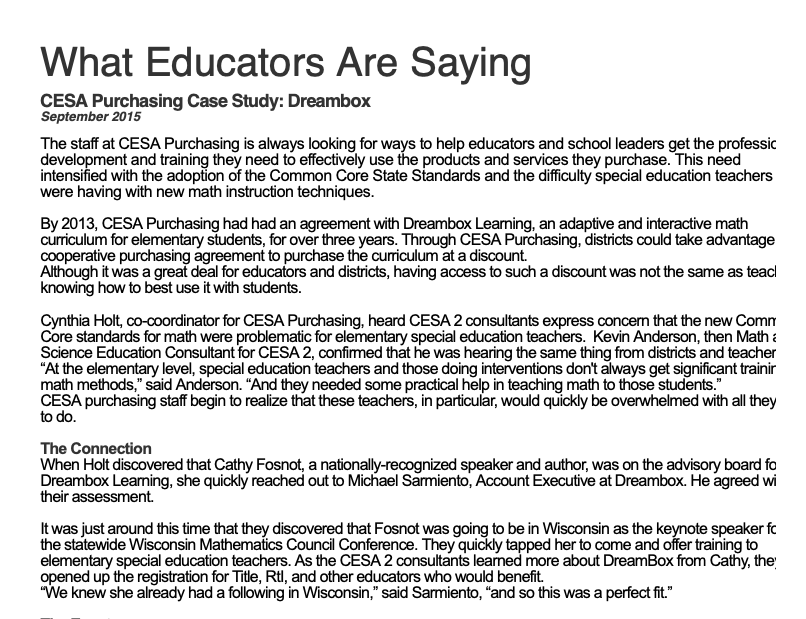 CESA Purchasing Cooperative
CESA Purchasing is a cooperative providing regional school districts with discounts from various vendors. While cost savings is a huge benefit, they also needed to get the word out about the relationships they'd built with some of their partners. I interviewed people from CESA and the vendor, DreamBox, to tell the story in the form of a case study that was used on the website and at conferences and other events.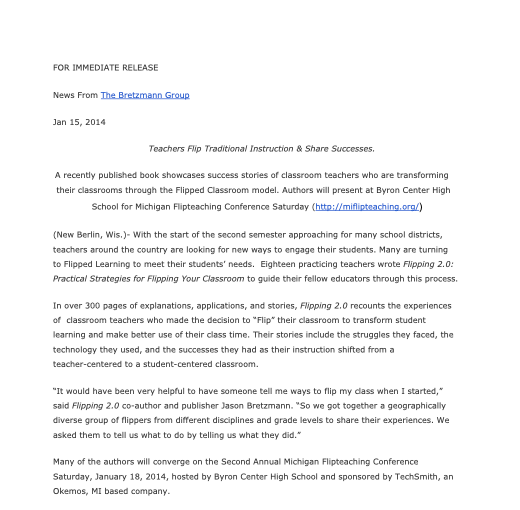 Having just published their first full-length educational technology book, the Bretzmann Grou p asked me to write a press release announcing the publication and some upcoming events.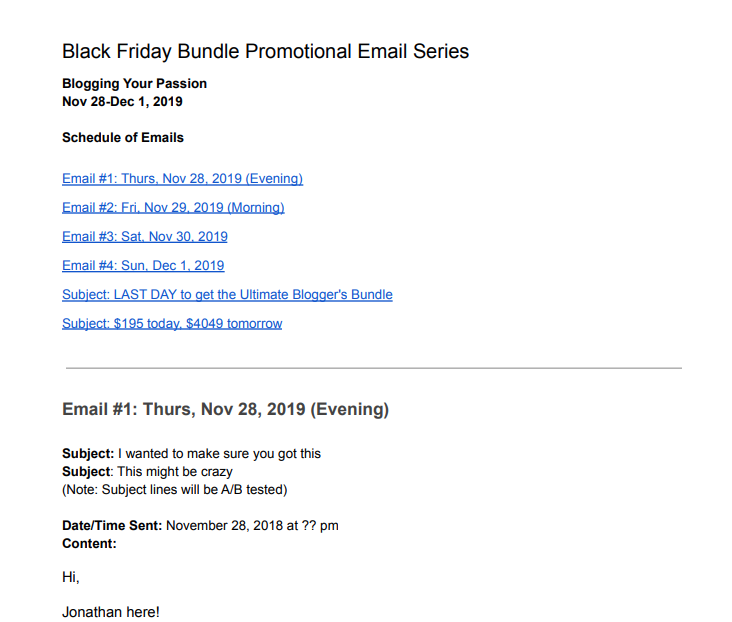 Black Friday Promotional Email Campaign
Jonathan needed a 4-part email series to send to a segment of his audience promoting a Black Friday online course bundle for Black Friday. I incorporated some previous emails he'd sent, added a significant amount of new content, and crafted the emails in his brand and voice. 
I wanted a multi-day, automatic sequence of emails to go to new subscribers, regardless of which free resource they signed up for. After receiving the link to download a checklist, one-sheet, tutorial, or other resource, readers would then receive one email a day for three days. These emails were designed to drive traffic back to the main website while offering an introduction to me and some more valuable tips and tools.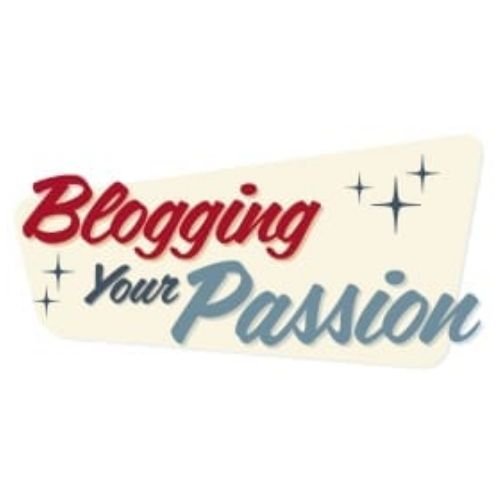 Jonathan wanted to continue to provide valuable, practical content to his readers…and encourage more opt-ins for his email list. He was starting to feel stretched thin with all the other projects he was doing in his online business, so I began writing weekly posts for him under his name and with his brand voice. I collaborated with him to develop post ideas, researched and wrote each one, and optimized the post of search (SEO).
Blog Posts for Thought Leadership
After launching their new product and website, Epiphany Learning needed to create some valuable articles to share. These posts focusing on personalized learning became sharable content, which get the word out about the topics that their education Saas addressed. 
Weekly blog posts for digital parents
Since 2015, Parenting Digital has provided practical advice, tips, product and book reviews, and other resources for parents raising kids in a digital world. I've researched, written, optimized, and socialized more than 60 posts for the website. 
Books with multiple authors
The publisher needed a developmental and copy editor for three books with a total of over 60 authors. I helped manage each project, coach many of the authors, account for varying voices and styles, and edit the text into cohesive and consistent books. I was also tasked with proofing and prepping the final manuscript into both Kindle and print formats. 
Hometown All Stars book series
Author Kevin Christofora had a random collection of handouts that needed to be organized into a press kit for his children's book series, Hometown All Stars. I compiled these original documents into a cohesive and effective media-friendly guide, editing many of the pieces for clarity. In addition to updating new book descriptions and FAQs, I also rewrote bios into shorter, punchier copy and edited the "One Page" sheet text. For promotional uses, I also created a page of social media posts with links and hashtags. With his success, Christofora has begun working with a PR agency, who added a formal press release, but most of my edited and original copy in the press kit remains untouched, even two years later.
With Cory editing our work, I feel a high level of comfort because he is thorough, meticulous, and exact. If he notices a better format or publishing convention, he'll suggest it in a non-judgmental way. He is an expert in knowing contemporary publishing standards and makes sure every project achieves them. I like working with Cory because he is a professional who gives us what we need and we know it is done right every time.I